We all know the story about how 50 Cent was shot 9 times, and survived. The life changing incident led to 50 Cent becoming one of the biggest hip-hop superstars ever, and living a healthier lifestyle. Throughout the years there has always been mystery surrounding who the triggerman really was on that fateful day, and a viral post on Instagram may have finally revealed the answer.
Viral Instagram Post Exposes Real Shooter Who Shot 50 Cent 9 Times Allegedly
According to the viral IG post a man named 'God B' is the real triggerman who shot 50 Cent. It's also believed that Ja Rule's bodyguard named 'Sun' also fired a few shots. The photo used to reveal the real shooter who shot 50 Cent 9 times was an image of Supreme McGriff, God B, and Gerald 'Prince' Miller from 1989. The main purpose of the post was to refute the claims that a man named Darryl 'Hommo' Baum shot 50 Cent.
As you'll see in the post made by IG account 'meccapolis' which has over 90K followers, is a statement that reads, "Darryl Hommo Baum did not shoot 50 cent".
Who is 'God B'? Details About the Real Triggerman Accused of Shooting 50 Cent 9 Times
According to the viral post God B was close friend Supreme McGriff and Gerald Miller. He was known for being part of the Five Percent Nation. God B died in 2012, so it's not like 50 Cent can retaliate in any way knowing the alleged truth.
The photo below was taken while Supreme McGriff was in prison for drug charges in the 1980s. This conveys how close their relationships were with each other.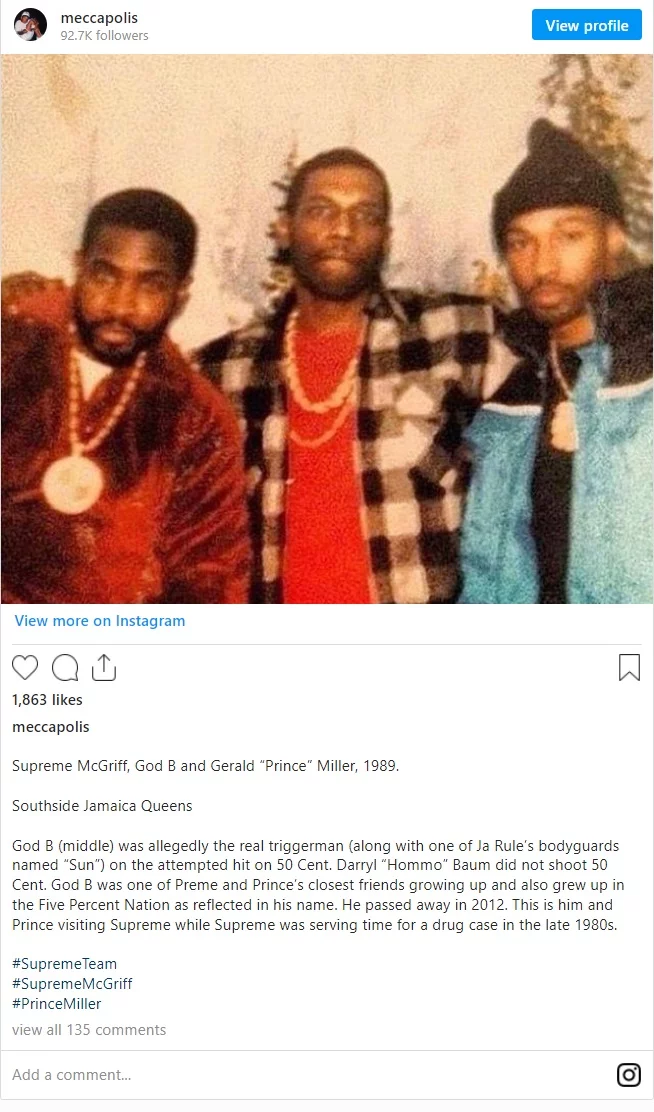 Why Did 50 Cent Dry Snitch on Darryl Hommo Baum?
The strangest part about this situation is the fact that 50 Cent accused Darryl Hommo Baum of shooting him on one of his most famous records. On 'Many Men' is the infamous line where 50 Cent says 'Hommo shot me, three weeks later he got shot down'. Based on the post above not only did 50 Cent dry snitch on Darryl Hommo Baum, he was also lying unless someone gave him bad information, or IG post above is incorrect.