Marcus Morris fought Paul Millsap during Clippers loss to Nuggets in Game 5. After the fight, Marcus Morris called Paul Millsap a "P**sy". It all started when Marcus Morris elbowed Paul Millsap, which led to a shoving match between them. After the altercation Marcus Morris said "He's a p***y, He's a p***y" to Paul Millsap as shot his free throws. The two toughest players in the series didn't back down from one another.
Take a look at Paul Millsap fighting Marcus Morris, then getting called a "p***y".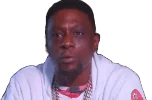 In the last series Marcus Morris was picking on Luka Doncic with his bullying ways. In this series Marcus Morris seems to have chosen Paul Millsap as his new target, possibly to neutralize his effect as Denver's enforcer. What this shows is that Marcus Morris doesn't discriminate when it comes to who he tries to fight. When Marcus Morris called Paul Millsap a "p***y", it was the ultimate form of verbal disrespect.
The question remains, who would win a fight between Marcus Morris and Paul Millsap? Denver Nuggets won Game 5 after an amazing comeback, so Game 6 will continue the story between these two.
Author: JordanThrilla