Today was Russell Westbrook's birthday, and he wasn't going to let the Stephen A Smith ruin it. In a viral Instagram comment Russell Westbrook exposed Stephen A Smith for lying about a problem within the Rockets franchise. Russell Westbrook says Stephen A Smith "fabricated" the story about him wanting out from the Rockets.
The post in question said "Stephen A smith says Houston has problem", to which Russell Westbrook responded, "It's my birthday, but I should say this is completely fabricated. You all have a good night".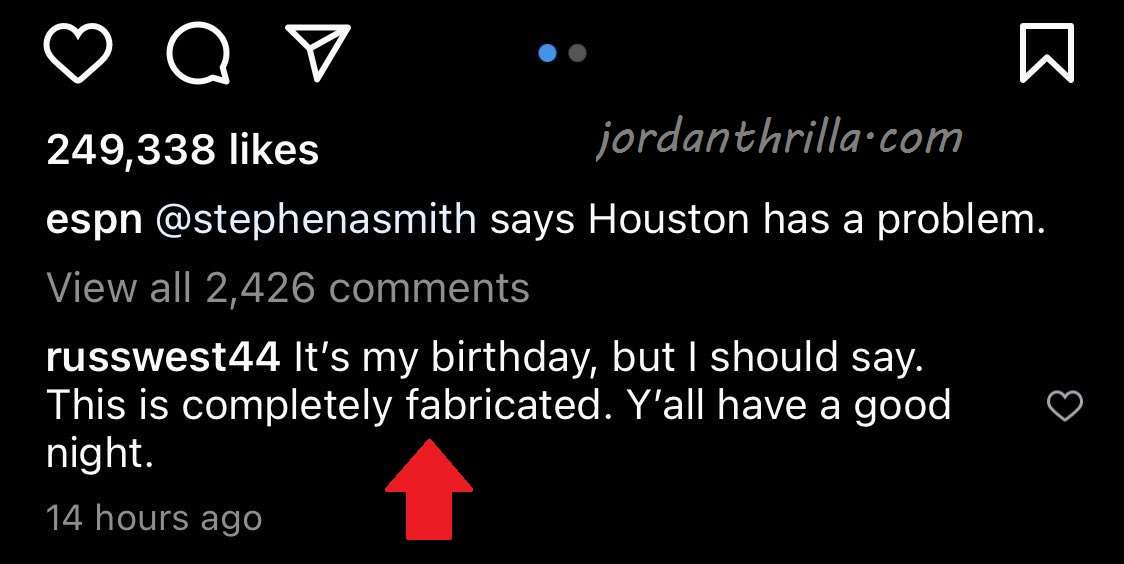 We've all heard the news about ratings being down for ESPN due to the pandemic, but has it really come to Stephen A Smith lying about Russell Westbrook and Rockets just for ratings?
If he's telling the truth then it would probably mean the problems between Westbrook and Rockets are really at a breaking point. That seems like the only reason Russell Westbrook would publicly deny the rumors that were true. However, there's no reason not to believe Russell Westbrook isn't telling truth about Stephen A Smith lying about him.
Even with the Stephen A Smith rumors about Westbrook filling the air, it seems he was still able to enjoy his birthday in peace with a cold glass of wine.
Author: JordanThrilla