The NFL season is back, and so far it has been stellar. With that entertainment value comes classic moments that make you appreciate the random story lines NFL Brings off the field. The Steelers first random moment this season was a fight in the stands, but now their new moment involves a bathroom, and one embarrassed man.
Did a Steelers Fan Poop Himself?
A viral photo shows what is allegedly the aftermath of a Steelers fan pooping himself at Heinz Stadium during Steelers vs Raiders. The picture shows the fan washing his pants in the sink after soiling himself. It's not clear what led to the Steelers fan defecating on himself, but it should be noted the Steelers lost a close game 26 – 17.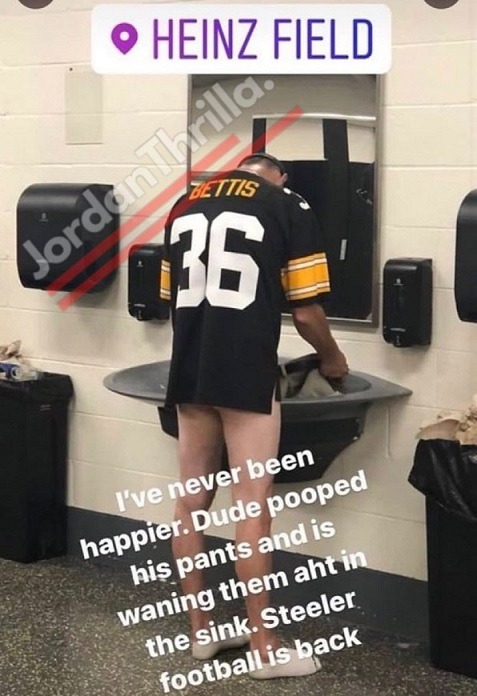 This situation reminded us of the moment from Along Came Polly where the guy sharted on himself during a party.
That Steelers fan sharted on himself, which is possibly a first in NFL history in terms of reasons for a fan being viral.
The situation that Steelers fan went through is something that would happen in a really bad nightmare for most people. How do you even get home after that? Would you even want to sit inside your car after having that happen at a stadium? Can you imagine the walk of shame he had to take to the bathroom?
Prayers up for that Steelers fan, and his pants.
Author: JordanThrilla Staff