Scarface is on dialysis after kidney failure, and needs a Kidney transplant to save his life. TI is offering a cash reward to anyone who donates their kidney to Scarface. The only catch is that you need to be a B+ Blood type, or Scarface's body will reject the kidney transplant.
T.I. announced on Instagram he was paying anyone to donate their kidney to Scarface saying, "Love and prayers to the homie. We got a bag for a volunteer. Who B+? Serious inquiries only hit my dms to verify".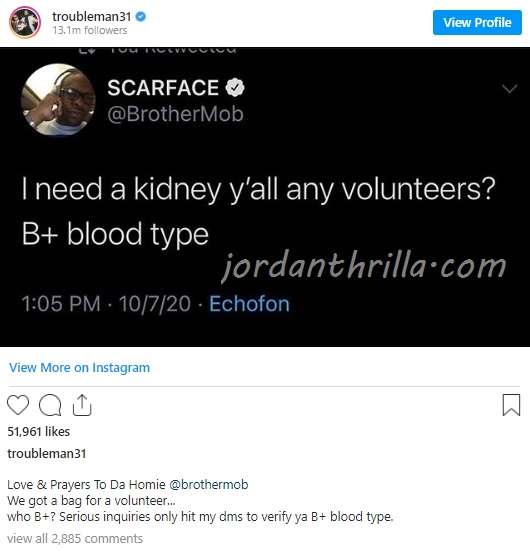 In March Scarface caught Coronavirus, and documented the struggles with his health it had caused. While he made a full recovery in terms of his lungs, his kidney ceased functioning and never returned to normal. Scarface claims he didn't have any kidney issues before catching COVID-19.
Right now Scarface is doing 4 hours of dialysis a day just to keep alive. Dialysis is where a machine filters all the blood out your body, while circulating it back through your body.
Let's hope TI can get Scarface that kidney in time. Pray for Scarface through this tough time.
Author: JordanThrilla