Whenever a well known rapper dies it's inevitable that Tekashi 6IX9INE will use it as an opportunity to gain some attention on social media. It's even more likely to happen if he was beefing with a rapper prior to their passing. With the tragic death of PnB Rock the trend continued as he took to Instagram to make light of the situation. However, Tekashi69's reaction to PnB Rock's death might actually be a response based on an interaction they had awhile back on social media.
Tekashi 6IX9INE Laughs in Reaction to PnB Rock Getting Shot Dead While Eating Waffles at Roscoe's Chicken in Controversial IG Post
PnB Rock was eating at Roscoe's House of Chicken and Waffles in Inglewood when a man wearing a purple mask entered the business, and shot him the in chest. The location of his death became the punchline of a disrespectful joke Tekashi69 posted on his IG account. In the controversial post he wrote "Homie died over waffles", and added a laughing emoji.
On the surface it may seem like another unmotivated attempt by Tekashi just trying to troll a tragic situation, but there was once a time when PnB Rock insinuated he would have the same type of reaction if Tekashi69 was murdered.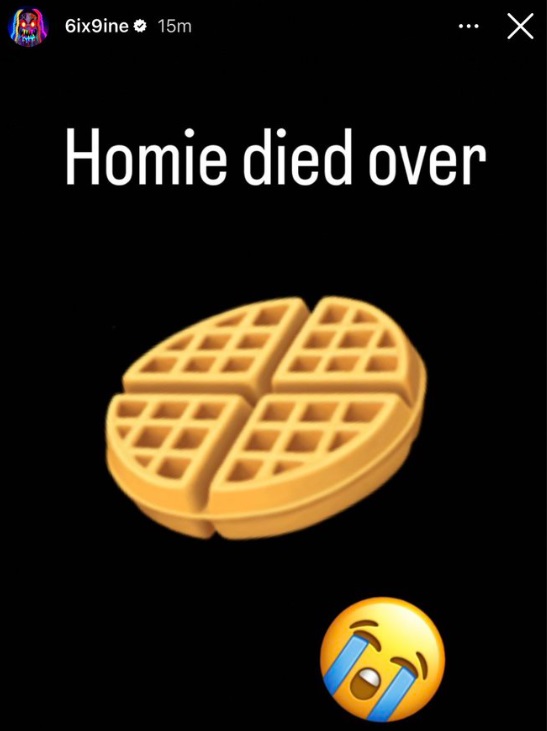 PnB Rock Wished Death Upon Tekashi 6IX9INE in Old Instagram Post
There was once a time when Tekashi69 made a post on Instagram insinuating he was realer than rappers who claim he's fake, and PnB Rock responded with a sinister message. In the post Tekashi 6IX9INE wrote, "Ya'll be like free the real and keep the fake. God answered ya'll prayers". In response to the post PnB Rock insinuated he would be happy if Tekashi 6IX9INE was dead saying "If he get smoked my life will be made no kizzzy". Tekashi responded by saying "you fell off the face of the earth".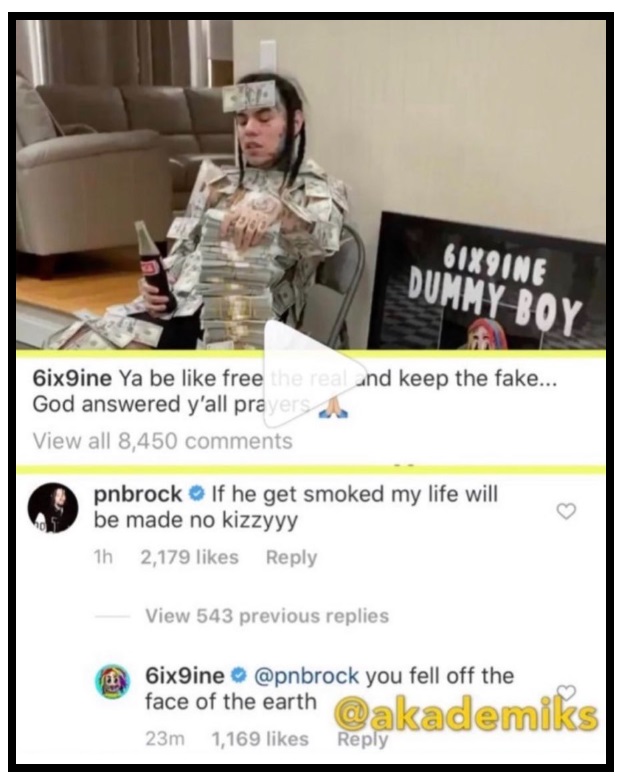 Based on their past you could argue that Tekashi 6IX9INE is keeping the same energy that PnB Rock was bringing his way. However, two wrongs don't make a right, so Tekashi69's comment was uncalled for, and not necessary in most people's opinions. Naturally he is receiving major backlash on social media.