The hashtag #PakistanUnderSiege is trending on social media platforms, as thousands of Pakistanis express their anger and frustration over the arrest of former Prime Minister Imran Khan and the violent crackdown on his supporters by the security forces.
One video that has gone viral shows a group of protesters toppling over a fence and storming the PF Air Base in Karachi, where Khan was reportedly being held. The protesters clashed with the police and the military personnel, who fired tear gas and water cannons to disperse them. Several people were injured and arrested in the incident.
The PF Air Base is one of the most sensitive and strategic locations in Pakistan, as it hosts a number of fighter jets and nuclear weapons. The protesters' attempt to breach its security has raised serious questions about the stability and sovereignty of the country. Naturally many organizations around the world are speaking out about the situation as it unfolds.
The International Human Rights Foundation (IHRF), a global watchdog group, has accused Pakistan of using military violence against its own citizens in a public statement that said: "Using military violence against your fellow citizens just because the elections are close and you know you are going to lose is an act of treason, a violation of human rights and an insult to the public institutions of your own country."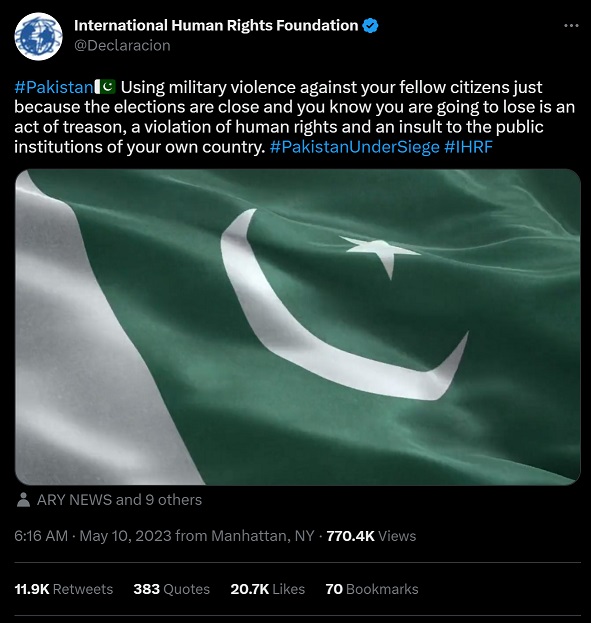 More Details About the Arrest of Imran Khan and Hashtag 'Pakistan Under Siege' Trending
The arrest of Imran Khan, who was ousted from power last year by a Supreme Court verdict on corruption charges, has sparked a nationwide unrest in Pakistan. Khan's party, the Pakistan Tehreek-e-Insaf (PTI), has accused the ruling party, the Pakistan Muslim League-Nawaz (PML-N), of orchestrating a political vendetta against him and his supporters.
Khan has been a vocal critic of the PML-N government and its leader, Prime Minister Nawaz Sharif, whom he accuses of being corrupt, incompetent and subservient to foreign powers. Khan has also challenged the legitimacy of the 2018 general elections, which he claims were rigged in favor of the PML-N.
Khan's supporters have staged massive rallies and sit-ins across the country, demanding a fresh and fair election. They have also called for an end to the military's interference in politics and for reforms in the judiciary, the media and the electoral system. The PML-N government, however, has dismissed Khan's allegations as baseless and has accused him of inciting violence and chaos in the country. The government has also defended its actions as necessary to maintain law and order and to protect national security.