Today was a very tough day for one of the most infamous sports host personalities of all time, Skip Bayless. Have you ever had a moment in life where you learned someone you thought was a friend was actually your enemy? Remember how emotionally distraught you were if you've been through that? A moment like that happened between Kevin Durant and Skip Bayless at the most unlikely time.
Why Did Kevin Durant Say He Doesn't Like Skip Bayless after Skip Bayless Called Him the Best Player on the Planet?
This situation started with Skip Bayless praising Kevin Durant's phenomenal efforts as of late to carry the Nets when they are going through a fully vaccinated COVID Outbreak. KD had 34 points in an overtime win against the Raptors. In the tweet Skip Bayless called Kevin Durant the best player on the planet saying,
"The Best player on the planet is at it again in Brooklyn tonight, going assassin in overtime for the COVID rocket Nets. Nothing like Kevin Durant. You watch, Bron?"
You would think Kevin Durant would be flattered by that compliment, but he replied to Skip Bayless saying, "I really don't like you". He didn't just say he doesn't like him, he said he 'really' doesn't like him. He didn't offer any insight into what fuels the disdain he has for him.
Perhaps it was the fact that Skip Bayless mentioned Lebron James' name. To many people it's seemingly really annoying how Skip Bayless drags Lebron's name into everything. We all know KD doesn't like being compared to Lebron either.
This situation comes a few months after Shannon Sharpe blocked Kevin Durant on Twitter. KD is now beefing with the whole Undisputed set.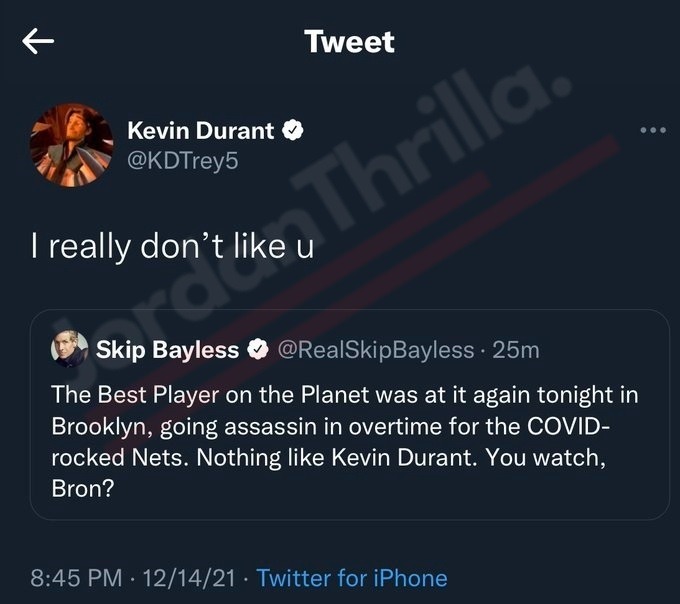 Social Media Celebrities React to Kevin Durant Dissing Skip Bayless with 'I Don't Like You' Comment After Skip Bayless Called Him the Best Player on Planet
When Skip Bayless is the target of an ether filled moment, the celebrity reactions on social media are always priceless. Once Kevin Durant's Skip Bayless tweet went viral the timelines were on fire. Most people were making jokes about how Skip got dissed by someone he was complimenting.