The legend of Luka Doncic just got bigger. Luka Doncic hit a game winner in Paul George face with a sprained ankle on Paul George to win Game 4 Mavericks vs Clippers. With 3.7 seconds left to go Luka Doncic got the ball and did a series of dribble moves before stepping back and hitting a tough three in Paul George's face.
Take a look at Luka Doncic amazing buzzer beater game winner that ties the series 2-2.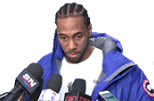 In the last game Montrezl Harrell made a disrespectful comment to Luka Doncic. That may have backfired, because Luka was playing with passion never seen before with a badly sprained ankle. You could see him grimacing in pain with each move.
Through all that adversity, Luka Doncic hit a game winner in his first playoffs and defeated the Clippers. This series is now 2-2.
Paul George has to retire from basketball if Clippers lose in the first round.
Author: JordanThrilla